Guided Tour of the World's Largest Carnivore Sanctuary
50 GivingPoints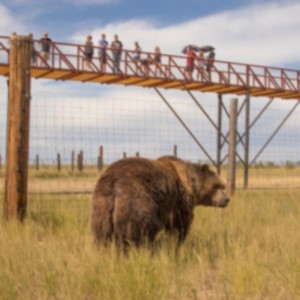 Private Guided Tour of the World's Largest Carnivore Sanctuary for 2 People
Do you love coming to the Sanctuary and wish you could learn more about the animals and our operation?
OR
Are you coming for the first time and want to get an amazing insider's view of everything?
Your special tour starts at the Welcome Center and wraps up just beyond the Tiger Roundhouse at our Rest Area/Turnaround point. Each step of your journey you'll be accompanied down our Mile Into The Wild Walkway with one of our Animal Ambassadors, getting an insider's understanding of the animals – their stories and their lives before and after rescue – and the Sanctuary's daily operations , as you take in the sights and sounds all around you.
These special tours are just that – special – so you know you and your guest will have a great time learning about everything at the Sanctuary.
Tours are available every day of the week except Wednesday during regular visiting hours - but must be booked 48 hours in advance.
Groups with children will need to ensure the children are able to stay focused in order to enjoy and get the most out of your tour.
You and your guest are welcome to bring a picnic lunch, but there is also our Lion's Den Cafe, Ice Cream Shop as well as a snack bar that offers a wide variety of nutritious food, snacks and beverages onsite.
We look forward to booking your special tour soon!
*During the COVID-19 pandemic, TWAS is requiring all guests wear face masks and social distance. Thank you for your understanding.
Redeem