Introduction to the Givesafely Charity Donation Website
GiveSafely.io provides a bridge between donors and charities that ensures that donor's personal information is stored securely on the Ardor blockchain and only passed onto charities with donor consent. Donors that pass on personal information and data are rewarded directly with GivingPoints, ensuring confidence in the online donation model and personal data management is enhanced.
Charities included on the platform are accredited by the Better Business Bureau (BBB) Wise Giving Alliance and meet all 20 BBB Standards for Charity Accountability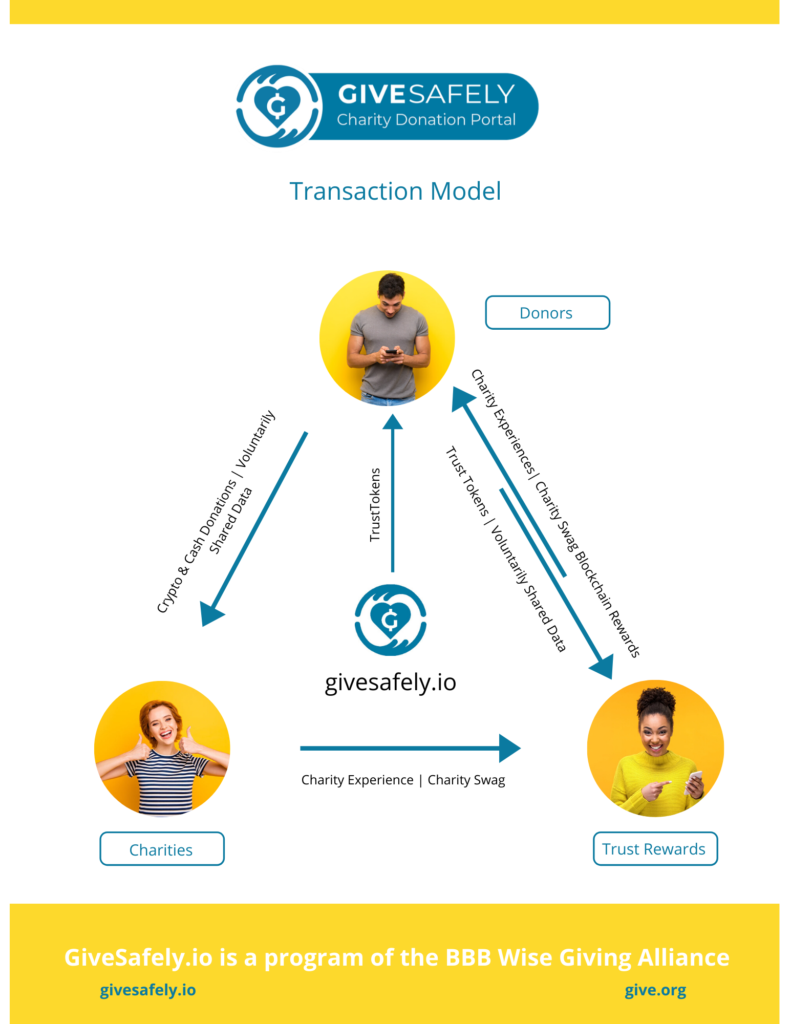 GiveSafely.io addresses concerns charities have about their ability to engage younger donors.
Millennials and Generation Z are much less likely than older generations to make donations to charities. At the same time, while only 11% of the population indicate that they would like charities to approach them more, both GenZ and Millennials indicated a higher willingness to be approached to give (19% and 23%, respectively). A 2018 Edelman study found that 25% of affluent millennials hold or use crypto and 31% are interested in using it, and 74% say technological innovations like blockchain make the global financial system more secure (Edelman: Millennials With Money) .
GiveSafely.io provides a new means for engaging digital natives and younger people.
Through the platform's GivingPoint system, donors are able to exchange the GivingPoints they earn for engaging experiences with all participating charities.
As a trend even before Coronavirus, giving by individuals decreased from 70 percent of overall giving in 2017 to 68 percent in 2018. This year is the first time giving by individuals has fallen below 70 percent of overall giving since at least 1954 (GivingUSA 2019). With the current Coronavirus pandemic 80.5% of charities anticipate that their 2020 revenue will be lower than expected (BBB Give.org Donor Trust Special Report: COVID-19 and the Charitable Sector).
GiveSafely.io provides a means to engage potential new donors during these difficult times.
Ezra Vazquez-D'Amico: With over fifteen years of non-profit experience, Ezra has worked in Washington, D.C. with the National Environmental Education Foundation, with organizations focusing on indigenous peoples issues in Ecuador and Bolivia, and with Rockefeller Philanthropy Advisors in New York City. He studied Music and Ethnicity, Race and Migration at Yale, and received his Master's Degree in Public Policy from Princeton's Woodrow Wilson School.
Since 2015 Ezra has worked for the BBB Wise Giving Alliance as a Research Analyst working directly with charities. Ezra co-authors the Donor Trust Report series (give.org/donortrust) and he plays a leading role in the GiveSafely.io initiative.
Art Taylor: For just under two decades, Art has been the president and CEO of the BBB Wise Giving Alliance. As head of the Alliance, he oversees all aspects of the organization's work, which includes setting standards for soliciting organizations, evaluating charities in relation to these standards, publishing the Wise Giving Guide, assisting local BBB charity review programs, promoting charity accountability and providing a variety of resources on informed giving to individual, institutional and business donors.
Art has served on numerous non-profit boards throughout his career. He was vice chair of Independent Sector, where he was a board member from 1998 to 2003. He has been a trustee of Franklin & Marshall College since 1993. He is a Vestry Member and Senior Warden of Christ Episcopal Church, Clinton Md. Parrish.
Early in his career, Mr. Taylor worked for Keystone Foods Corporation, UGI Corporation and Deloitte & Touche LLP, where he obtained the status: Certified Public Accountant. Before joining the Alliance, Mr. Taylor headed the Opportunities Industrialization Centers of America, Inc. (OICA).
Art is a graduate of Franklin and Marshall College and also received an honorary Dr. of Laws from his alma mater in 2002. He received a J.D. from Temple University James E. Beasley School of Law, and was admitted to the Pennsylvania Bar in 1989. While at the BBB Wise Giving Alliance, Art lectures at Columbia University School of Professional Studies within its Non-Profit Management Programme.